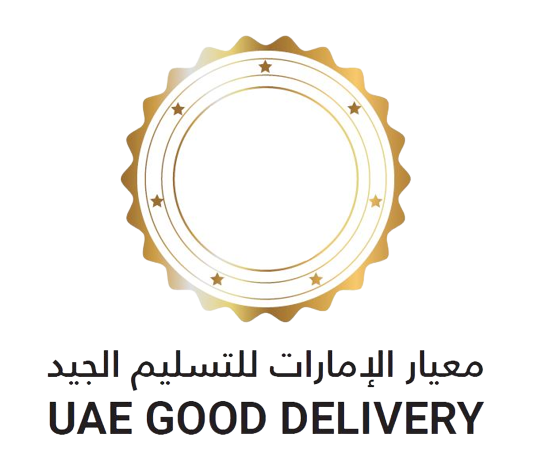 Accreditations
Al Etihad Gold Refinery is a member of Dubai Multi and Commodities Centre (DMCC). Established in 2002 by Royal Decree, the Dubai Multi Commodities Centre Authority (DMCC) is a strategic initiative of the Government of Dubai, with a mandate to enhance commodity trade flows through the Emirate by providing the appropriate physical, market, financial infrastructure and services required.
Al Etihad Gold is also a member of the Dubai Gold and Jewellery Group (DGJG), a prestigious trade body with the aim of promoting the Gold and Jewellery industry of Dubai both locally and internationally.
Al Etihad's gold and silver products are accredited by the UAE Good Delivery (UAEGD).The UAE Good Delivery standard was developed by Dubai Multi Commodities Center ("DMCC") in 2021 and is regarded as the international benchmark for quality and technical specification for the production of gold and silver.
The objectives of the standard are to increase confidence in the gold and silver industry, create more opportunities for trade finance activities, provide the technical robustness and incorporate relevant globally accepted best practices. In addition, it provides a delivery standard for the Dubai Gold & Commodity Exchange ("DGCX") for 1kg gold bar of 995.0 fineness and standard large silver bar ranging from 900-110 ounces of a minimum of 999.0 fineness.
Al Etihad Gold holds awards for ISO 9001:2008 (for Quality Management System), ISO 14001:2004 (for Environmental Management System) and OHSAS 18001:2007 (for Occupational Health & Safety Management System) standards.
PLEASE CLICK THE LOGOS TO SEE THE CORRESPONDING CERTIFICATE.





UAE Good Delivery
1 Kilo Bar Gold 995.0 and 999.9,
Silver Large Bar and Grains




Responsible Minerals Initiative
Conformant Smelter



Responsible Jewellery Council
Certified Member COP 2019




ISO/IEC Standard 17025:2017:
General requirements for the competence of testing and calibration laboratories






ISO 9001:2015
Quality Management System






ISO45001:2018
Occupational Health and Safety
Management System




ISO14001:2015
Environmental Management System