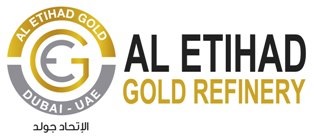 We have been receiving numerous queries regarding our product, specifically minted bars of 1 gram and 2.5 gram distributed by a certain company. This company has no affiliation with Al Etihad Gold whatsoever and we will never offer guarantee on their business activity.

We would like to inform everyone that our minted bar products are generally available for purchase to the public from reputable gold traders and retailers. We do not offer verification of the certificate numbers of minted bars unless there is an extremely exceptional case that requires us to do so.

To know more about our minted bar products, please follow this link:

http://www.aletihadgold.com/en-US/newsandupdated/LatestNewsDetail?Id=57

We would like to reiterate that Al Etihad Gold, a private owned company, is not engaged in trust or asset management, international investments etc. Al Etihad Gold will never ask for investments, personal information or funds to any person or entity.