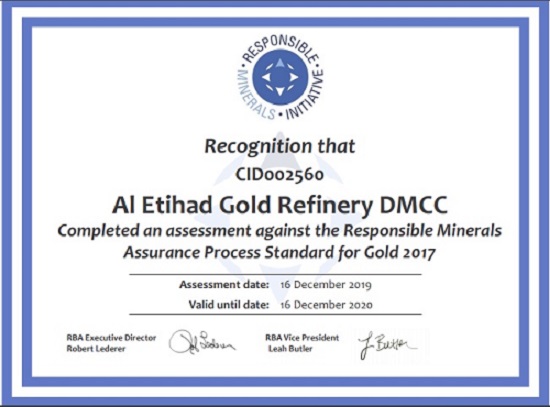 Al Etihad Gold Refiner DMCC has passed the re-audit process for the Responsible Minerals Assurance Process for Gold.

As part of Al Etihad Gold's commitment in achieving responsible supply chain of gold, the company had voluntarily participated in the Responsible Minerals Initiative (RMI, formerly CFSI) Responsible Minerals Assurance Process (formerly Conflict-Free Smelter Program).

The objective of the assessment is to assess the level of conformance with the Responsible Minerals Assurance Process GOLD Refiner Standard 2017, effective date June 1st, 2018 with minor revisions 8 June 2019.

The audit was conducted on 15 – 16 December 2019 by SCS Global Services for the assessment period of 16 September 2018 to 15 November 2019. On 3 February 3030, the RMI had issued compliance determination and concluded that Al Etihad Gold is Compliant with the Gold Protocol. The review expires one year after date of the assessment.

Report can be found here, and more information can be found on our Responsible Sourcing page.

Al Etihad Gold is committed to achieving the goals of responsible sourcing of precious metals and will continue participating in the RMI RMAP Program.