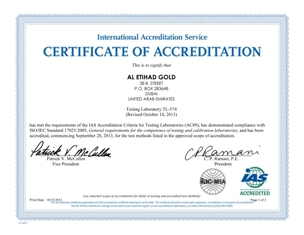 Al Etihad Gold,
The 1st Refinery
in the Middle East
to achieve
ISO 17025:2005
Accreditation
There is a strong reason for Al Etihad Gold to celebrate another victory, after it recently achieve the International Standard Organization (ISO) Accreditation 17025:2005 through IAS and proudly the first gold refinery in the Middle East to be ISO 17025:2005 accredited.

The two main sections in ISO 17025:2005 are Management Requirements and Technical Requirements. The scope of our ISO 17025 Accreditation is the field of testing of Precious Metals – Chemical Analysis. The determinants are: Fire Assay – ISO 11426; Silver – Volumetric Titration – ISO 11472, Sampling – ISO 11596; ICP Multi-Element Analysis for Gold – ISO 15093 and ICP Multi-Element Analysis for Silver – ISO 15096.

The accreditation further enhanced the confidence of our clients with our quality services especially our Quality Control Department.