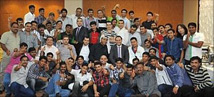 Al Etihad Gold & Al Bahrain Family Celebrated the Dubai Good Delivery Accreditation Status.
A thanksgiving and victory party was given by Al Etihad Gold Management and owners to all the employees who were joined by the staff of the sister company the Al Bahrain Jewellers with some important invited guests. A short program was prepared and highlighted by a photo booth with a chance to take pictures and souvenirs by individual or by group and different parlor games, a special dance presentation by Arabic male employees and with fabulous prices door prices offered. The lucky winners of the major prices were: Rupeesh Pawar from the Quality Control department for the 3rd price, the 2nd price goes to Michael Pangilinan and Aboobaker Sadique grabbed the 1st price both are from the Refinery Department. The prices were awarded by no other than our General Manager Sami Abu Ahmad in the presence of Mr. Adel Abbas Ebrahim Khalaf partner of Al Etihad Gold. Everybody enjoyed the party that was held at Executive Corps Hotel in Al Barsha, Dubai. The special occasion is offered by Al Etihad Management and owners to all employees as recognition of their hard works and full effort that results to the achievement of Dubai Good Delivery Accreditation Status from Dubai Multi Commodities Centre.
To learn more about our products and services, Please contact us for more information.