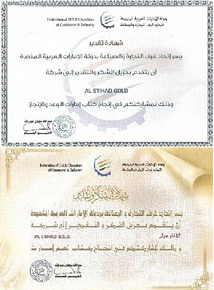 Al Etihad Gold Received Two Rewards from Dubai Federation of Chamber Commerce and Industry for 2011.
The two reward certificates were given for the cooperation of Al Etihad Gold to the Yes Emirates Book and the Emirates Promise and Achievement. Al Etihad Gold Management will never fail to join activities like this hence its one way of supporting to the aim of this government department for unity and cooperation among businessmen in the UAE.
To learn more about our products and services, Please contact us for more information.