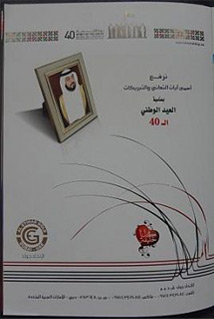 UAE 40th National Day December 2, 2011
Al Etihad Gold Owners, Management and the whole working force expressed their warm and great felicitations to HH President Sheik Khalifa bin Zayed Al Nahyan, Ruler of Abu Dhabi and HH Vice President & Prime Minister Sheik Mohammed bin Rashid Al Maktoum, Ruler of Dubai and to all other leaders and people of United Arab Emirates for the 40th National Day on 2nd December 2011. As a gesture of participation of UAE happiness, Al Etihad Gold shared in All Of Us Khalifa Book a special edition of 999 Magazine. 999 Magazine, is the first society and security monthly magazine for non-Arabic speakers in the UAE and in the Middle East.
To learn more about our products and services, Please contact us for more information.